Put York & Sawyer on the list of great unsung architects overdue for a coffee table monograph. Edward York and Philip Sawyer both trained in the office of the legendary McKim, Mead, and White, and, after forming their own firm in 1898, went on to contribute a wonderful body of work to the American Renaissance. Their Bowery Savings Bank, now the home of Cipriani's, is one of my favorite buildings on 42nd St.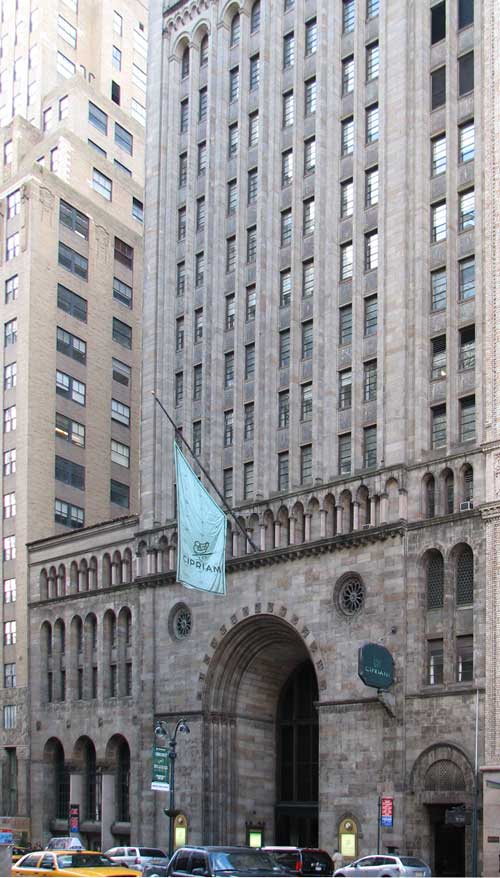 It was completed in 1923, right after the country had bounced quickly back from the relatively unknown depression of 1920. The Romanesque style is an uncommon source of inspiration for this cathedral of commerce, but it's handled expertly. The facade is asymmetrical out of necessity, yet beautifully balanced. A massive triumphal arch motif marking the principle entrance presides over two smaller scaled local symmetries to the right and left, all stitched together with an arcade across the top. The apparent thickness of the wall as you pass through the great portal lends the facade some serious gravitas. Yet, it manages to convey lightheartedness through the details which are teeming with life and imagination, and, in light of recent events in the world of finance, a touch of irony as well. The text over the arcade reads, "A MUTUAL INSTITUTION CHARTERED 1834 TO SERVE THOSE WHO SAVE." Those were the days.
The selection of stone is superb, with just the right amount of color variation–any more would be too loud, and any less would be too stiff and artificial.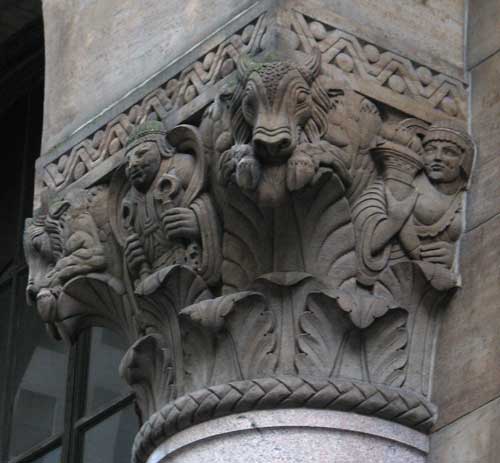 The Art Deco flavor is evident in the marvelous column capitals which adapt standard Corinthian proportions with symbols particular to the banking institution. In this case, the bull symbolizes determination and reliability, the keys, guardianship, and the cornucopia, harvest and abundance. There also seems to be a native quality to the feathered leaves and the braided rope holding them together.
The great hall, now a place for the glitterati to gather, is decorated with an immaculately detailed timber ceiling (unblemished with downlights), truly original chandeliers, and blind arcades of Corinthian columns down the side walls. It's as though an ancient basilica had been modified for the purpose. Heating and air conditioning is unobtrusive, integrated seamlessly into the architecture.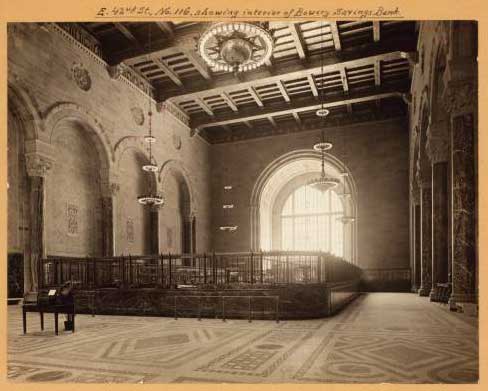 But the pièce de résistance is surely the neo-Cosmatesque floor worthy of a cathedral. The Cosmati were a group of Roman artists who, in the late middle ages, embellished hundreds of churches in the Papal States. The techniques and motifs were themselves revivals from antiquity. (For more on Cosmatesque ornament , consult this book which, as it happens, my wife Paloma authored. And if you're interested in your own Cosmatesque floor, there are still craftsmen producing them today.)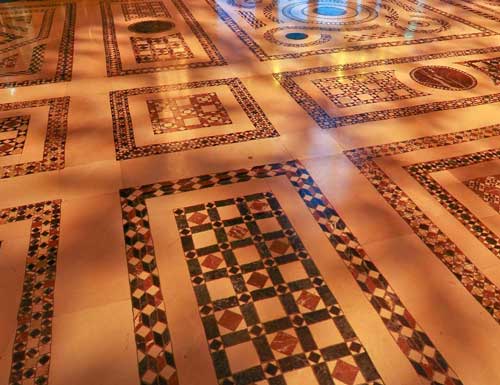 Here's a wonderful panorama of the hall to help you get a feel for what it must have been like to deposit a check in the good old days. A far cry from the plastic laminate and acrylic carpet that characterize the experience today.
Tags:
New York City