The orders are not just for buildings. They are also used on furniture to bring its structure to life, to give it meaning, and to give it status. On the most formal pieces, the order is fully developed. Here, for example, is a highly articulated French Renaissance buffet with composite entablatures at each story, slightly modified to suit the situation, and supported by herms (males located appropriately on the corners). Acanthus leaves, lotus petals, flowers, olive branches, etc. are fully sculpted. The piece could have sprung up under a tree in the Garden of Eden.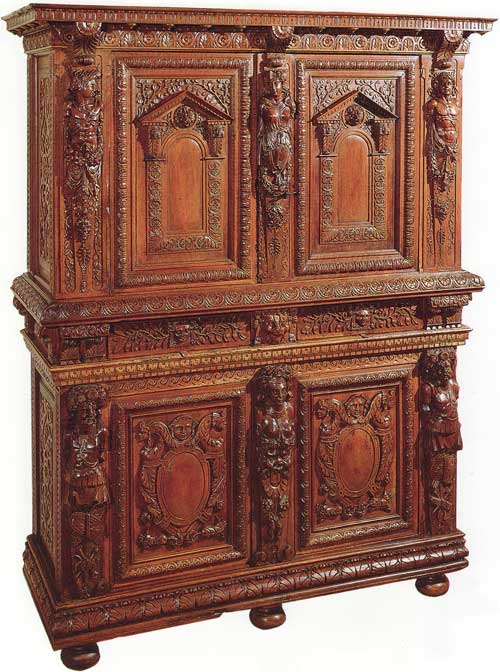 Here is another fine example of full articulation, a table. The florid legs, which seem to sprout up from their bases, are a highly stylized Corinthian with exaggerated necking (elegantly godrooned, like pumpkins) supporting an entablature, simplified so as to be practical. The architrave has been eliminated, the height and projection of the cornice reduced, and the sima turned into a bullnose to provide a softer edge and to make sense when viewed from above. The cross pieces curl like tendrils.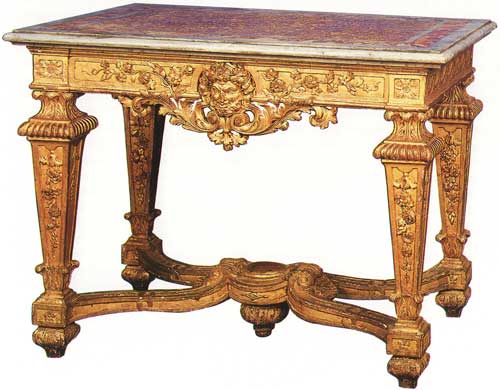 On lower status pieces, practicality and economy come increasingly to the fore. What were fully sculpted bands of leaves become simple moldings, and the proportions thin out. On the bookcase below, you have a pedestal in the lower register, with its base, die, and cap, and very simple flat panels in the doors. The columns are represented in the door stiles. And the entablature is represented in the door rail, which comes from the architrave, the fluted frieze, and the simple cornice on top, composed of the usual bedmold, corona, and sima. Voilà, the full order is here, sometimes explicitly, sometimes abbreviated, and sometimes implied. If we wanted to simplify the piece further, we could eliminate the fluting (which in my opinion is a motif which derives from the hollows of leaves).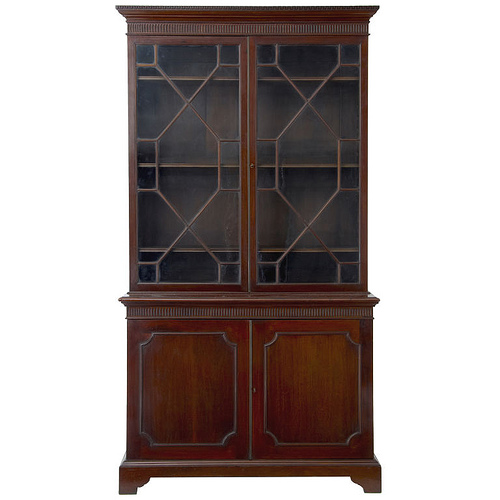 Built-in pieces follow a similar pattern, although they tend to be slightly more robust than free-standing pieces as they are so much a part of the building. In this room we employed a reduced version of the Corinthian order, and took some inspiration from ancient Pompeii (Triclinium A from a villa in Moregine, on the outskirts of Pompeii to be precise). The cornice of the bookcase serves the formal purpose of giving the room a secondary crown, uniting the bay window and the chimney breast, as well as providing a shelf for decorative objects. The height of the entablature is reduced and the lines simplified by omitting the architrave. The sima morphs playfully into an Ionic lotus-palmette motif over the secondary bays.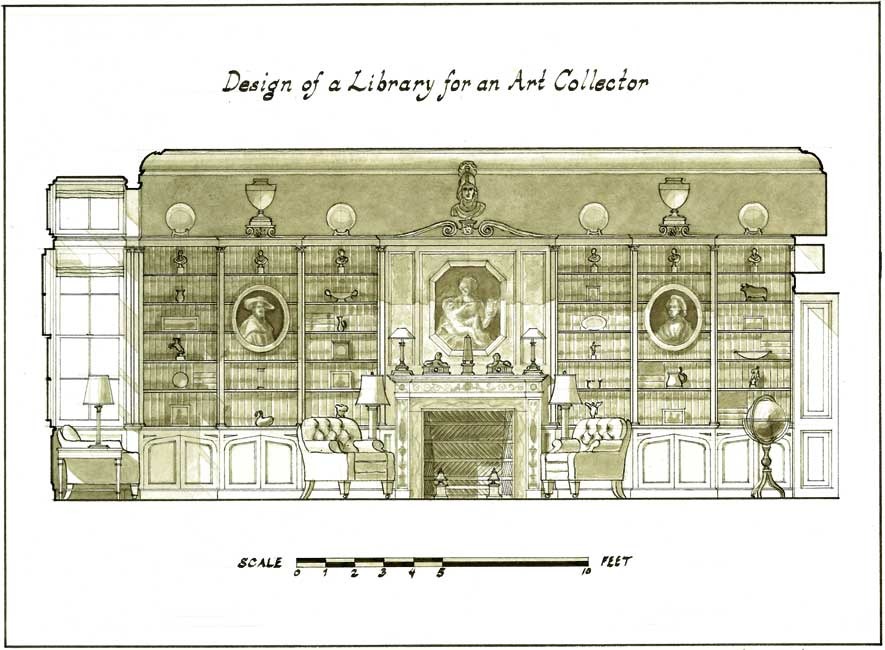 Tags:
Furniture
,
orders