The ever-supercilious Nicolai Ouroussoff opens his favorable review of Renzo Piano's addition to the Isabella Stewart Gardner Museum with a couple of put-downs to his presumed critics.
"The cultural watchdogs of Boston don't take well to change."
"Preservationists Should Put Away their Torches and Pitchforks"
Well, you don't have to be a redneck to have legitimate trouble with his appraisal. You just need a little common sense.
Though Ouroussoff pretends to be the evangelist of change, Piano's design unflinchingly reinforces the status quo. Add the Gardner to a long line of traditional cultural institutions which guts its patrimony with a soul-sapping modernist pile. In fact, Piano's proposal looks like a sequel to his Pierpont Morgan Museum addition. Regarding the extended greenhouse, who in this age of sustainability can justify it? This throw-back to the 1970s will cost a fortune to heat and cool–and keep from leaking. As for materials, the Gardner Museum's website claims that they "respectfully complement the existing site and neighborhood." Oh? I can find no copper and large expanses of glass anywhere in the context. Certainly the forms do not complement the original house. "Counterpoint" is the term Ouroussoff uses.
If I may borrow from the recent Driehaus laureate Rafael Manzano Martos, "aberration" is closer. Piano has conformed the existing monument  to himself, rather than conforming himself to the existing monument.
It is true, as Ouroussoff points out, that the exterior of the original building is a bit bland. In fact, the Museum relies heavily for its brand image on Willard T. Sears' sumptuous courtyard.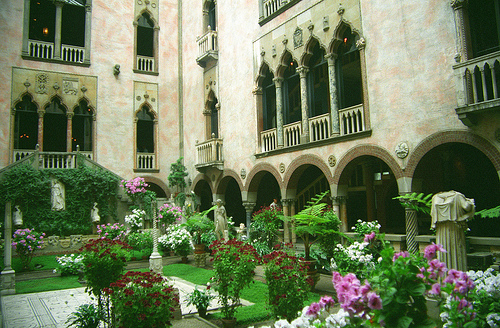 So why not take that idea of a Venetian fantasy, which has worked well for the museum so far, and extend it to the facade? Something like so:


Adapting the motives of the interior would be a quite natural thing to do as they are already so well known. And it would be a way of showing that the building, originally designed as a home, had matured and truly become the museum it now is. The institution has achieved significant status in the city, so there is lots of potential for some degree of grandeur. Certainly Evans Way Park could use a monumental facade. And opportunities for iconography are practically limitless with an art museum.
It's a pity to see yet another remarkable institution trade in its unique identity for blank modernist anonymity.